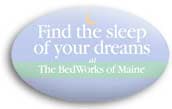 CELEBRATING OVER 40 YEARS!
Our staff is here to help.
Meet Janet, Stephanie, Adrienne, and Robin – our friendly and knowledgeable sales team. Each of us has had years of experience selling mattresses and bedroom furniture. We pride ourselves in our professional customer service. Our goal is to help you understand the new choices in bedding and then help you find the right mattress; the perfect fit at the best price. Our sales team is also great at helping you to design your new bedroom. From traditional to contemporary, we know how to help you create the bedroom of your dreams.
Comfort and design; let us help you turn your bedroom into your oasis.
Come in to our showroom in Brewer, Maine or call us. We are here 7 days a week!